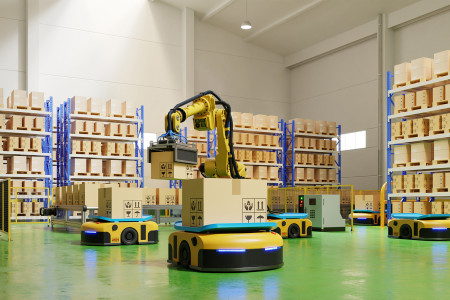 A Guide to Autonomous Mobile Robots (AMRs) and 8 AMR Applications
Autonomous mobile robots (AMRs) play vital roles in businesses of all sizes and niches. For the warehousing and logistics sectors in particular, AMRs provide the intelligence needed to make all the right and most practical decisions to overcome challenges faced in the modern industrial environment.
Just like humans, autonomous mobile robots in business have the capability to make judgements when faced with new or unexpected situations and perform the necessary actions for the best possible outcomes.
AMRs perceive their surrounding environments, using the data generated to recognise conditions and consider the factors that will influence their AI-based actions. This allows AMRs to undertake a variety of tasks successfully, from basics like stopping and starting to more complex motions, such as accelerating and manoeuvring around obstacles.
Autonomous mobile robots in business use machine learning to achieve optimum efficiency and accuracy, even in the face of new situations. AMR applications have evolved dramatically in recent years to deliver the advanced on-board sensors, laser-based perception and navigation algorithms to move even more dynamically through industrial and commercial facilities.
Read on to discover our guide to autonomous robots, the industry sectors they serve with great success, and how the introduction of AMRs may be beneficial to your business.
What industries use AMRs?
When compared with automated guided vehicles (AGVs), AMR applications operate without direct driver input or pre-configured scripts. With this, autonomous mobile robots in business ensure an infrastructure-free, easily redeployable solution that can adapt to changing environments and seamlessly integrate with existing technology across a wide range of sectors.
AMRs in warehousing
The expanses of the warehouses and distribution centres of today are pretty immense. Some warehouses span in excess of 1 million square feet, representing an area that simply can't be fully negotiated by human workers across the course of one work shift. That's where AMR applications come in.
With the use of autonomous mobile robots, warehousing and distribution businesses can overcome common challenges, like the transportation of goods across large areas, to achieve maximum results for their operations. Such AMR applications decrease the amount of time workers spend travelling across the warehouse floor. Warehouse workers can then dedicate more time to value-added jobs to ensure optimum output across other areas.
Autonomous robots are particularly adept at negotiating busy warehouse environments. The latest models use lasers to view, localise and safely navigate around obstacles. They are also especially useful in open spaces, such as enormous warehouses. Monotonous tasks that involve heavy lifting (i.e. the palletisation process) can also be handled effectively via AMR applications. Features like AMR platforms, lift plates and robotic arms make the loading, unloading and transportation of pallets as effective and time efficient as possible.
AMRs in logistics
The logistics sector is another industry that has benefitted from AMR applications. Well known for their labour intensive yet tedious duties, logistics facilities provide unrewarding career paths for human workers. Yet with the use of autonomous mobile robots, human talent can be freed up without disrupting the finely tuned, repetitive cycles that logistics businesses rely on.
AMRs are widely used for the transportation of goods throughout logistics facilities. Autonomous mobile robots in business are being increasingly used to pick orders and transport the associated goods from A to B to boost efficiency, safety and productivity. Logistics facilities are making the move from the AGVs they've utilised for decades to AMR applications that provide self-steering, self-thinking capabilities to unlock greater independence and flexibility.
The use of autonomous systems means logistics businesses are now able to successfully cater to their growing customer bases' changing needs. Increasing demand in light of the digital-first mentality of modern day consumers can also be met thanks to the easily scalable solutions provided by AMRs whilst saving space and minimising costs.
AMRs in eCommerce
Our guide to autonomous robots wouldn't be complete without referencing AMR applications within the eCommerce sector.
Like the logistics sector, eCommerce businesses have seen a spike in online activity in recent years. With this increased demand, eCommerce facilities have had to step up their operations to deliver the efficiency and service required by their customers. Autonomous mobile robots have allowed eCommerce facilities to meet current market needs with the desired productivity and speed while keeping labour costs down.
AMRs in manufacturing
AMRs also boast a bright future in the manufacturing sector, with many facilities evolving to incorporate autonomous mobile robots in business operations. For new and existing production floors, AMR applications are paving the way for flexible line setups, and Interact Analysis' research shows it is already generating billions of cumulative revenue for major industrial customers.
AMRs in healthcare
The healthcare sector is one of the lesser known AMR applications mentioned in our guide to autonomous robots. Yet with significant investment in automated systems during recent years, organisations are already profiting from their acquisition and successful integration.
The future of robotics in medicine could even extend to radical surgical assistance considering the rate of technological advancement within the sector. Right now, AMR applications are transforming how surgeries are performed by streamlining all-important supply delivery and disinfection. Automated technology featuring light detection and ranging (LiDAR) systems, visual compute and mapping capabilities is even being used to navigate patients around medical facilities. The result has been a higher standard of patient care and a safer working environment.
The use of robots within the medical field however is no new thing. The very first were introduced in the 1980s and used robotic arms to deliver basic assistance during surgeries. The evolution of artificial intelligence (AI) driven computer vision and data analytics has continued to unlock yet more AMR applications within the medical world ever since.
AMRs in data centres and research facilities
Data security has been a hot topic since the introduction of the General Data Protection Regulation (GDPR). For the data centres and research facilities at the epicentre of data protection, AMR applications unlock increased proficiency for operations.
Autonomous robots equipped with lockable boxes and cabinets provide safe and secure transportation that can be easily programmed or redeployed in accordance with the most up-to-date, accurate and fully compliant protocols.
AMRs in biotech
The life science sector is now introducing and integrating autonomous mobile robots thanks to the cutting edge technology used by the latest models. This is allowing pharmaceuticals, biotech, med tech and nutraceutical organisations to achieve better workflow optimisation, increased flexibility, optimum productivity, and faster return on investment. All the while, these businesses are upholding the highest standards of safety throughout their ultra-sterile, highly regulated environments.
The intuitive nature of AMRs is also helping these innovative companies to outwit and outperform the competition with best route selected, batch quality optimised, waste managed and costs minimised to speed up production as a whole.
AMRs in research and development
Research and development (R&D) businesses can truly focus on the job in hand by delegating the tedious yet crucial transportation tasks that are always part and parcel of testing and engineering duties.
Autonomous mobile robots in business are even becoming the focus of R&D activities to aid the development of sensors, robotic manipulation and mobilisation that will benefit future AMR applications across all the industry sectors mentioned above.
Why Choose Guidance Automation to Help Your Business
Looking for further information on the implementation of autonomous mobile robots in the industry sector you serve?
Here at Guidance Automation, we have the expertise and experience to implement AMRs and help your organisation unlock the many benefits they offer. Contrary to popular belief, AMRs can be integrated with minimal disruption or infrastructure changes. They can also be introduced gradually or en masse to cater to your operational needs both now and long into the future.
Discover why Guidance Automation is the first choice for autonomous mobile robots in business by requesting your free AMR trial and unlock the potential of automation first-hand.
https://www.guidanceautomation.com/wp-content/uploads/2022/09/Autonomous-Mobile-Robot-Applications-450x300-1.jpg
300
450
Developer
/wp-content/uploads/2022/12/logo-strapline.png
Developer
2022-09-27 15:21:39
2023-01-11 13:02:59
A Guide to Autonomous Mobile Robots (AMRs) and 8 AMR Applications