5 Frequent Questions about Our Autonomous Mobile Robots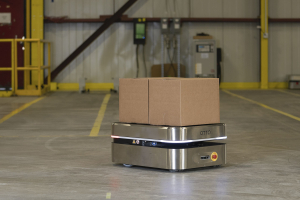 As automation consultants, we are used to fielding questions from businesses looking for innovative and accessible automation solutions. Autonomous Mobile Robots are a great first step for small and medium businesses, but there is still plenty of confusion among business leaders about what AMRs are and what they can do. In this article, we address some of the frequently asked questions about AMRs, to help our readers on the way to implementing automation that works with their business.
In this article we will answer:
What is the difference between AGVs and AMRs?

How much weight can an AMR manage?

Do AMRs use Artificial Intelligence?

How can I help my employees adjust to collaborative automation?

What add-ons are available for AMRs?
Read on to find out the answers to these common questions about the most versatile robotics solutions available today.
What is the difference between AGVs and AMRs?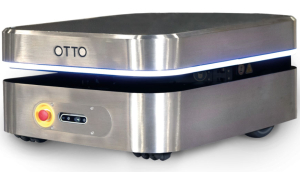 Autonomous Mobile Robots or AMRs are sometimes conflated with Automated Guided Vehicles (AGVs), but there are some key differences between the two.
Autonomous vs Automated
Automated machinery performs a set of defined, static tasks with minimal human input, under computer control. Autonomous machinery has much more complex programming, enabling it to perform tasks which may require decision-making, based on variations in the task. Autonomous machines store data for use in machine learning capabilities, enabling them to 'learn' from new situations. For example, an automated guided vehicle moves along a single defined path, whereas an autonomous mobile robot can identify and move around obstacles.
Guidance vs Mobility 
For an AGV to move around a facility, a certain infrastructure is required to support the guidance system. These include magnetic tape or barcodes, for example,  which the AGV reads to travel along fixed, predefined paths. They can detect obstacles, but can only stop and wait for the obstacle to be moved, rather than plotting a new route around the obstacle.
AMRs use laser-based navigation algorithms to map the area and plot a route to the required destination. They require no external infrastructure, which makes them easy to introduce into any environment. AMRs use machine learning to gain efficiency and accuracy. 
AGVs vs AMRs: Benefits?
While AMRs have developed from the foundation laid by AGV technology, there are many benefits brought by autonomous mobile robots.
Reliability:

Because they require no external infrastructure, AMRs do not bring the downtime that AVGs cause due to obstacles, failed sensors or minor debris in the field of view. 

Versatility:

A single AMR unit can be used for multiple applications, whereas an AGV can be programmed for a single, fixed task at a time.

Scalability:

Because they operate from a centrally shared map, AMR fleets can grow and shrink quickly without much set-up time. AGVs require particular layouts in a facility in order to function, and adding extra vehicles requires planning

Easy Redeployment:

AMRs are controlled centrally, so units can be redeployed to different zones or facilities with little set-up time. The fixed infrastructure needed for AGVs makes moving an AGV as difficult as the initial installation.
How much weight can an AMR manage?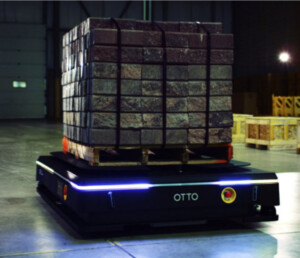 It depends on the size of the AMR, but generally, they are designed to be strong and sturdy. There is no delicate machinery or circuitry on the exterior of the AMR, and with a low centre of gravity and a flat surface, these machines are industrial-strength robots able to manage large loads safely at speeds of up to 2m/s.
OTTO 100:

Maximum payload: 150kg, ideal for smaller boxes and carts

OTTO 750:

Maximum payload: 1250kg, ideal for demanding material handling applications.

OTTO 1500:

Maximum payload: 1900kg, ideal for pallet-scale loads.
Do AMRs use Artificial Intelligence?
Mobile robotics and Artificial Intelligence (AI) are developing fields that are closely linked. To complete tasks efficiently, AMRs use machine learning, a branch of AI that is focused on imitating human learning techniques. Machine learning allows AMRs to quickly adapt to new environments and navigate obstacles.
How can I help my employees adjust to collaborative automation?
When implementing new automation in your facility, our advice is to include staff in the design and planning as early as possible in the process. This helps with staff 'buying into' the benefits of automation and allows them to flag potential bottlenecks or difficulties that may arise. 
Training is another key part of helping employees work with AMRs. Learning how to use the technology to the greatest benefit can give employees agency over how these collaborative tools are used.
What add-ons are available for AMRs?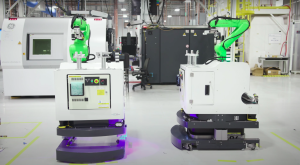 At Guidance Automation, we design and build tops and modules to add extra functionality to AMRs. Increasing the versatility of these robots is simple with modular add-ons such as:
Conveyor Top Module:

a powered roller conveyor that sits on top of the AMR and can raise or lower to deposit items onto a surface.

Tote Lifter Top:

a forklift-style lifter to raise and lower lightweight totes.

Staging Cart:

increasing the surface area of the 100-series AMR, this staging cart allows for quick drop-off and pick-up of multiple items.

Pick-to-Light Top:

a small cart equipped for

light-directed material handling

that can be transported by AMR.

Robotic Arm:

increasing the functionality of an AMR with robotic arms allows them to assist workers in manufacturing and much more.
On our website, you can read more information about the autonomous mobile robot add-ons we provide, or you can discuss bespoke AMR add-ons that help you make the most of AMRs in your business.
Any Further Questions?
It's unlikely we'll have answered all of your questions here. If you have anything else you'd like to know, whether it's a big-picture question about Industry 4.0 or a technical question about our AMR range, we're happy to answer it. You can enquire or request a consultation via the Guidance Automation Contact page.
Read more about our Automation Solutions
Autonomous Material Transportation
Robotic vehicles move goods and materials from A to B, minimising unproductive travel for human operatives. Various top modules are available or can be bespoke to your requirements. Autonomous Mobile Robots (AMRs) come in different sizes depending on the max payload. Our largest AMR can carry up to 1900kg.
Read more about Autonomous Material transportation…
Light-Directed Material Handling
Use of an automated light-direction system on storage walls, racks, and mobile robot tops to improve your picking speed and accuracy.
Read more about Pick-to-Light and Put-to-Light
Warehouse Execution and Control Systems
Our WECS system, NEXUS, can be used to integrate and centralise control (and collect data from) all the technologies around the warehouse or facility. The WECS covers Autonomous Mobile Robots, light-directed material handling systems, conveyors, sorters, robotic arms, and many other warehouse automation technologies.
Automation Consultation
Guidance Automation would be delighted to speak to you about automation options for your business. We specialise in providing automation solutions tailored to the warehousing, logistics and distribution, eCommerce, and manufacturing sectors.
We offer a free, no-obligation survey to companies of all sizes.
If you are an SME, we even offer a free autonomous mobile robot trial to demonstrate how such vehicles could operate in your environment with your people.
Start your Digital Transformation Journey with Guidance Automation today:
Email us at: enquiries@guidanceautomation.com
Fill out the form on our Contact Page
Guidance Automation – Unlocking your Automation Potential