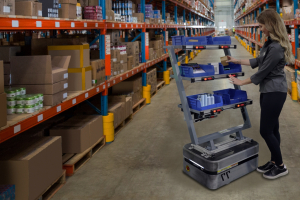 Best Light-Directed System in the UK: Pick Walls, Pick Carts and Put Walls
Pick-to-light systems are fast, operator-based solutions that support order fulfilment and piece picking in warehouse, distribution, manufacturing and eCommerce fulfilment industries. Simply by adding a system of LED displays that interact with your WES, WMS or other execution software, you can dramatically increase the productivity and accuracy of piece-picking operations, filling more orders, increasing customer satisfaction and saving money.
In this article, we'll take a closer look at some of the pick-to-light solutions available through Guidance Automation, including pick-to-light walls, put-to-light walls and mobile batch-picking carts.
Contents:
What is Pick-to-Light?

Pick-to-Light Walls

Light-Directed Put Walls

Automated Batch-Picking Carts

Which is the Best Pick-to-Light Solution?
What is Pick-to-Light?
Pick-to-Light is a light-directed material handling system to support error-proof picking. Shelves, carts or storage areas are equipped with LED displays which show the location and number of each item required for a given order or assembly. 
Workers simply look for the light and select the correct quantity, then press a button to instruct the system that they have finished.
This technology can be used for:
Split-case picking in warehouses & distribution centres

Part selection, kitting and assembly in manufacturing facilities
By working with the facility's internal management software, pick-to-light technology can bring huge benefits of efficiency, productivity and accuracy to your operations.
Pick-to-light technology is well-suited for use in manufacturing environments with:
High numbers of product configurations

Frequently changing configurations
It also has applications in warehousing and order fulfilment facilities with:
Highly varied orders, such as for large eCommerce platforms

Large numbers of SKUs
The most appropriate light-directed technology for your application will depend on your business operations. In the rest of this article, we'll discuss the differences between the various types of light-directed picking and packing solutions available.
View our Pick-to-Light Systems
Pick-to-Light Walls
A pick wall is a standard set of open containers arranged in a grid, collecting common SKUs or parts together for operatives to pick from. When picking manually, operatives arrive at the pick wall with a list and gather items as they appear on the list, checking the SKU code or product name and searching the wall for the correct piece.
Our Pick-to-Light technology can be linked to your warehouse execution software or read digitised pick lists, dramatically reducing the errors associated with paper pick lists. The LED displays then communicate the requirements and guide the operator to each item, leaving little room for errors such as missed products or incorrect quantities.
Benefits of Pick-to-Light Walls
Fewer pick errors:

light-direction is much simpler to follow quickly than paper lists

High-capacity:

Pick walls can hold many split cases or Euro crates containing different SKUs, enabling more orders to be filled during batch picking.

Easy to install and configure:

our pick-to-light hardware has a modular design and is easy to apply to existing storage. Installation, maintenance and expansion are fast and affordable.

Ideal for team-based picking strategies: e.g. Zone picking. Multiple people can work at a pick wall at once.
Light-Directed Put Walls
To assist workers in sorting SKUs into different orders, a Put Wall is a useful tool. It is the opposite of a pick wall, in that a grid of empty spaces is open for workers to put items into. Rather than Pick-to-Light, a Put-to-Light system is in place in this solution.
At a put-to-light wall, workers scan an item's barcode, and all spaces that require that item are illuminated by an LED. This technique works to sort batch-picked items into individual orders.
Our put walls are open from both sides and easily configured so that one side receives items from stock while the other is set up as a packing station. Once a space contains a complete order, it illuminates on the far side to indicate that it is ready for packing.
Benefits
High-capacity

: our put walls are modular, allowing them to be built as long or as short as required. The more orders that can be accommodated, the more efficient your picking and packing processes will be.

Double-sided:

when an order is completed, the light will go out on one side. Another light will come on at the other side to tell the packers it is ready to be packed.
Automated Batch Picking Carts
Mobile Carts with multiple shelves can be adapted to use pick-to-light technology, supporting batch-picking strategies. Deploying automated batch-picking carts in your facility reduces time spent walking/travelling by workers, improving pick rates and leading to more accurate order picking, faster delivery times and higher customer satisfaction.
Benefits
Mobile:

light-directed batch picking carts apply the speed and efficiency of pick-to-light to any part of the warehouse, storeroom or distribution centre.

Increased pick speed:

supporting efficient batch picking, workers can use these carts to fill multiple orders simultaneously, increasing overall picking speed by up to 200%.
Compatible with AMRs:

With a

pick-to-light top module

, an autonomous mobile robot can transport batch-picked items to the packing area, assembly zone or their next location, without human intervention, freeing up workers to move onto the next batch. This can also support

zone-picking strategies, with AMRs

moving between zones to collect items from various workers.
Versatile:

We can apply light-directed material handling technology to any sized cart or mobile shelving to create put-to-light carts that meet the needs of a particular business.

Cost-effective:

Light-directed material handling technology can be retrofitted to your existing pick carts, upgrading your batch-picking tools for a low cost.
Which is the Best Pick-to-Light Solution for your Business?
Each of these solutions has advantages best used in different areas or processes. Our suggestion would always be to assess your business operations first and foremost. Consult with your team to see which operations would benefit most from light-direction technology. 
For example, if the handover between picking and packing is a bottleneck, a put-to-light wall can open up capacity in this area. You can read more about how our light-directed material handling solutions are in this pick-to-light case study.
Guidance Automation is a trusted supplier of the most flexible and powerful light-directed picking applications available in the UK. We facilitate the design and implementation of new systems and retrofits to provide a highly customisable and cost-effective system for warehousing, distribution and manufacturing businesses.
Speak to a Pick-to-Light Expert at Guidance Automation today to discuss how Light-Directed Material Handling can take your business to the next level.
Read more about our Automation Solutions
Autonomous Material Transportation
Robotic vehicles move goods and materials from A to B, minimising unproductive travel for human operatives. Various top modules are available or can be bespoke to your requirements. Autonomous Mobile Robots (AMRs) come in different sizes depending on the max payload. Our largest AMR can carry up to 1900kg.
Read more about Autonomous Material transportation…
Light-Directed Material Handling
Use of an automated light-direction system on storage walls, racks, and mobile robot tops to improve your picking speed and accuracy.
Read more about Pick-to-Light and Put-to-Light
Warehouse Execution and Control Systems
Our WECS system, NEXUS, can be used to integrate and centralise control (and collect data from) all the technologies around the warehouse or facility. The WECS covers Autonomous Mobile Robots, light-directed material handling systems, conveyors, sorters, robotic arms, and many other warehouse automation technologies.
Automation Consultation
Guidance Automation would be delighted to speak to you about automation options for your business. We specialise in providing automation solutions tailored to the warehousing, logistics and distribution, eCommerce, and manufacturing sectors.
We offer a free, no-obligation survey to companies of all sizes.
If you are an SME, we even offer a free autonomous mobile robot trial to demonstrate how such vehicles could operate in your environment with your people.
Start your Digital Transformation Journey with Guidance Automation today:
Email us at: enquiries@guidanceautomation.com
Fill out the form on our Contact Page
Guidance Automation – Unlocking your Automation Potential