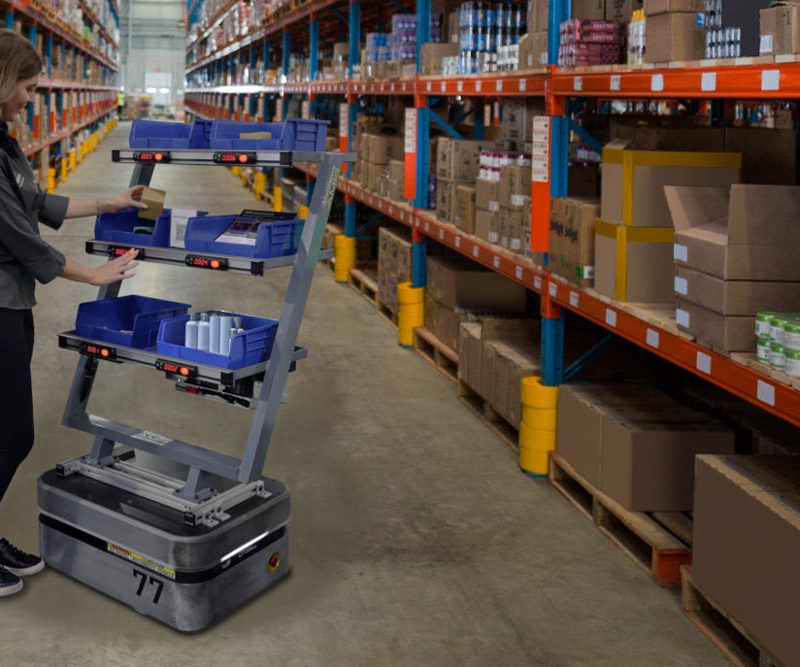 Goods-2-Person vs Person-2-Goods Automation
Warehouse Automation Jargon Buster: Goods-2-Person vs Person-2-Goods Automation
Automating Warehouses is one key strategy in increasing productivity and efficiency across fulfilment centres and logistics facilities, but there is a language barrier. The number of complex phrases used across the automation market can make it difficult for SME businesses to find affordable warehouse automation that suits their needs. In this article, we aim to explain two terms used in material handling automation: Goods-to-Person and Person-to-Goods.
These terms relate to material handling particularly in picking activities, and the role automation can play in this area. By minimising the time and effort operators spend on order-picking, travelling around the facility on foot and searching for the right SKUs, businesses can make the most of their people and save time and money.
When automating order fulfilment, picking or part selection, Goods-to-Person (GtP) and Person-to-Goods (PtG) are terms that come up regularly, but what are these different methods? What is the difference between Goods-to-Person and Person-to-Goods automation?
The Short Answer:
Both GtP and PtG material handling methods can be automated with the help of AMRs and Light-directed pick walls.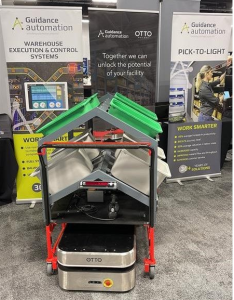 Goods-to-Person (GtP): warehouse technology such as Autonomous Mobile Robots bring picked products to a workstation, where a person is ready to receive them. This removes a huge amount of walking and unproductive time.
Person-to-Goods (PtG): the traditional method of picking, in which operators travel through the warehouse aisles to find and pick SKUs for orders. This method can be augmented using automation tools, such as Pick-to-Light carts, to improve pick rates and route-planning software to reduce time spent walking.
You can use both methods together, with different people operating at each end of the AMR journey. Automating these types of material-handling practices can drastically increase the throughput rate of an order-picking team, making it easier to cope in high-demand markets.
Read on to find out more about how GtP and PtG automation can improve efficiency in your business. 
Goods-to-Person (GtP) Automation
Warehouse operators remain at their workstations, whether picking, packing or replenishing stock, while the goods they require are brought directly to them using Autonomous Mobile Robots (AMRs).
When the operator is finished with all of the goods, another AMR can deliver more, while the first goes on its next picking mission.
There are different methods for bringing goods to workstations. In some cases, an open carton is brought for a picker to choose quantities. In another case, it may be most effective for an AMR to travel with a whole rack or shelving system from which the operator can select the required items. This is sometimes called "Racks-to-Person" automation.
AMRs are an excellent solution for automating material transportation, as they are durable, scalable and safe. They can be integrated into the existing infrastructure of most facilities and adapted to support the needs of the business, whether they require a conveyor module, staging cart or robotic arm, for example.
Integrating Pick-to-Light in Goods-to-Person Solutions
Pick-to-Light or PTL is a light-directed batch-picking technology. The cart is equipped with LED displays that illuminate to highlight the location of the ordered products and the quantity required. While this technology can be applied in any size of stock-room, warehouses with multiple aisles can benefit from these PTL pick carts when batch-picking goods for multiple orders. When the cart reaches the packing station, operators simply look to the lights for the products they need to complete an order. 
AMRs can be adapted to carry our Pick-to-Light Carts, transporting goods to workstations with the added efficiency of a light-directed picking solution. operators simply pick goods from the lit-up areas for packing. This addition speeds up order picking and reduces errors, creating cumulative benefits for the business.
Person-to-Goods (PtG) Automation
As the name indicates, Person-to-Goods picking is the traditional method, when workers travel through the warehouse or fulfilment centre to pick items from their storage locations. 
With AMR assistance, this process can become more efficient. With the addition of bespoke tops and modules, AMRs can carry Staging carts and PTL carts, operating as software-driven smart carts.
Zone Picking
One way of organising automated Person-to-Goods picking with AMRs is known as Zone Picking. The order picker works in a warehouse zone, picking for multiple orders. Many eCommerce orders today call for products from wildly different categories that are unlikely to be stored in the same area. Zone picking avoids pickers having to walk miles around a facility to fulfil one order, as automated mobile robots go between zones to fetch the required items.
Pickers meet an AMR at the pick site, review the order displayed and select goods from the shelves. Once the goods are added to the AMR cart, the AMRs can go between zones collecting further items from different operators until they have a completed order to take to the packing station. Meanwhile, another AMR enters a zone and the order picker selects items for that order.
By minimising the amount of time operators spend walking around the warehouse, zone picking with the support of AMRs increases productivity and makes better use of your personnel.
WES/WECS Software and PtG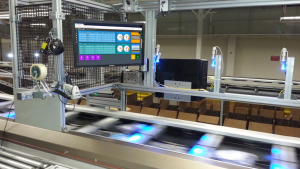 While all warehouse travel has a degree of inefficiency, with an intelligent Warehouse Execution and Control System (WECS) companies can cut down walk time and increase picking rates. In the most advanced automated systems, the next pick location can be communicated automatically to operators working in order picking with wearable technology, such as smart watches or smart glasses, or for a more cost-effective method, via a tablet or company phone.
Pick-to-Light, Put-to-Light and PtG Picking
Just as with Goods-to-Person order picking, light-directed picking can guide workers to the exact location of the required products. By installing light displays on shelving, warehouses can cut down travel time and inefficiency as workers need only look for the light, rather than trying to find the correct label or barcode.
Guidance Automation also provides Light-Directed Put Walls, allowing operators to quickly scan and sort items from batch-picked containers. By following the lights, operators place each item into a discrete zone for each order, ready for packing. 
Main Differences between GtP and PtG Picking
While manual picking methods involve person-to-goods as the default way of operating, automating picking processes within a warehouse or e-commerce fulfilment centre does not mean changing everything. Whether you choose to add automated tools to PtG methods or use AMRs to implement GtP picking, there are plenty of returns to be had from both options.
Goods-to-Person
Person-to-Goods
Reduced Travelling Time

operators stay at their station and products arrive

Zone picking methods

Role of AMRs

AMRs carry staging and PTL carts

AMR travels between operators in each zone

Ideal for use with PTL Modules

PTL Cart indicates which products to pick for each order

While the AMR may carry a PTL cart, those picking may also pick from a

light-directed pick wall
"Leave the Travelling to the Robots"
With the amount of time easily saved by using AMRs to travel around medium and large storage centres, it makes sense that the ROI of automating material handling is often greater each year. There are plenty of benefits to both Person-to-Goods and Goods-to-Person automation, and there's no reason why these methods can't be combined. Whether it's an easy early win in your automation journey, or the perfect way to bridge the gap in an ongoing warehouse automation system, bring AMRs in to automate picking processes in your business.

Why not Book a free automation consultation with Guidance Automation and see how you can unlock your automation potential.
https://www.guidanceautomation.com/wp-content/uploads/2023/03/ashley-amr-optimised.jpg
667
1000
Scott Hunt
/wp-content/uploads/2022/12/logo-strapline.png
Scott Hunt
2023-06-16 07:49:10
2023-06-16 08:49:55
Goods-2-Person vs Person-2-Goods Automation