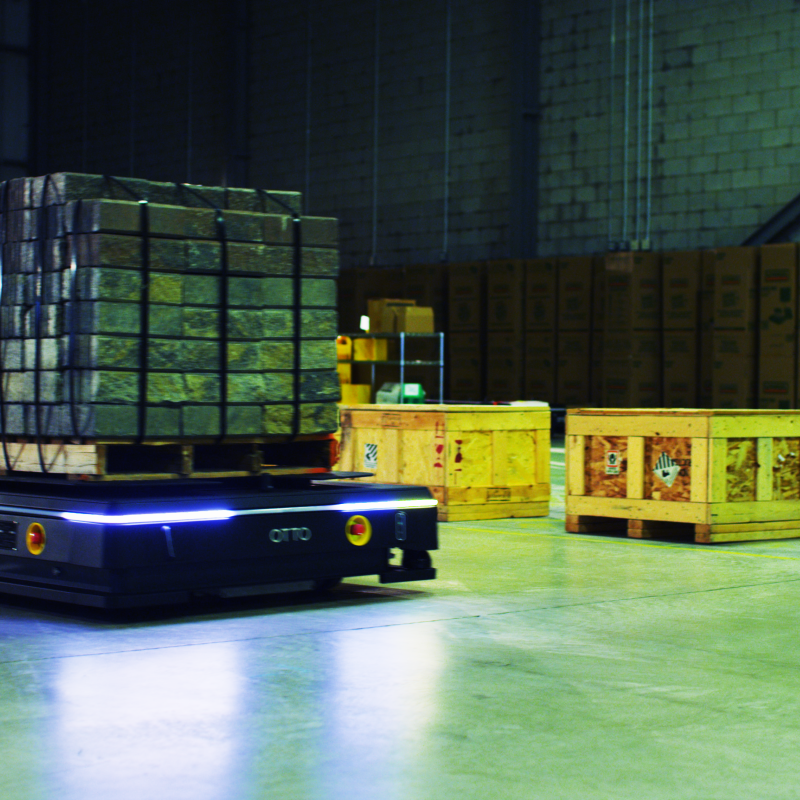 5 Tops and Modules to Customise Your AMRs
We've talked a lot about how Autonomous Mobile Robots (AMRs) can support goods conveyance, carrying items around your warehouse or eCommerce fulfilment centre. However, these automation tools are much more flexible than they first appear. At Guidance Automation, we have unique access to technologies that allow AMRs to carry out multiple functions, fitting more applications. With AMR attachments, tops and modules, our customers can build a versatile fleet of collaborative robots (cobots) that take on a wide range of tasks, making their business more resilient for the 21st century, and gaining a greater ROI on their automation.
"The right top or attachment dynamically integrates the AMR into a system to complement existing automation and human operators."
In this article, we discuss the types of top modules we have available at present at Guidance Automation, and the applications and use cases of each.
What is a Top or Module for an AMR?
An AMR top is a modular attachment that plugs into or sits above an AMR which moves around the facility. There are many of these available through Guidance Automation, as we believe in a flexible robotics service. These attachments can make AMRs better suited to your systems and processes, seamlessly integrating robotic automation to complement your current operations. The modules are versatile and can be changed as needed to support different tasks.
1) Pick-to-Light Cart Attachment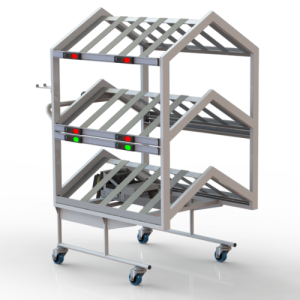 Integrating light-directed materials handling and robotics, the Pick-to-Light cart for AMRs fits over the OTTO 100, which can transport it to where it is needed. In many cases, the pick-to-light AMR cart can be extremely versatile. For example, when used for batch picking, the AMR can move with employees to each pick location, using lights to show where to place the product on the cart. Mobile Pick Carts offer up to 40% gains in productivity on paper-based picking.
This is a brilliant option for eCommerce or fulfilment centres, as it streamlines picking and packing and reduces the time operatives spend travelling around the facility. The AMR can deliver the pick-to-light cart to the picking station, where an operative selects the correct items and loads them onto the cart. The AMR then takes the full cart to a packing station to be sorted into orders. Because it can disengage from the cart, the AMR is free to perform other tasks, such as fetching the next empty cart, while the picking operation is carried out. The operative then uses an interface to signal the AMR when the cart is ready to collect. 
The pick-to-light cart is simple to use and integrates with your inventory management system. We supply a range of static pick-to-light and put-to-light solutions that can increase efficiency and productivity. Read more about our light-directed materials handling solutions here.
2) Customisable Staging Cart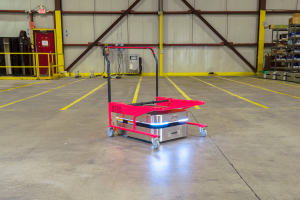 A simple staging cart that fits over the OTTO 100 to transport payloads of up to 130kg to a given destination.
The OTTO 100 AMR can effortlessly engage and disengage with the staging cart to assist in material handling, as they are two independent components. The staging cart has its own wheels and handle, so can be manoeuvred by robot and human workers alike. The OTTO 100 can drop off the staging cart at a workstation before continuing on to another task. It can collect the staging cart when tasks are finished and transport it effortlessly to the next location.
With custom attachments such as shelving units and Minomi attachments, the type of payloads to be transported offers no problems. For example, an OTTO 100 AMR can deliver staging carts loaded with particular components to a workstation, as well as remove and replace them when the components are empty. This application eliminates the need for lineside racking, making manufacturing facilities more flexible and versatile as workstations can flex their functionality according to need.
3) Mobile Conveyor Top Module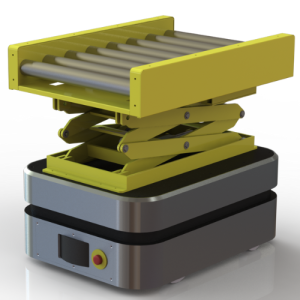 By fitting a powered roller conveyor to the OTTO 100, you can automate efficient and adaptable payload transfer from conveyor to conveyor or vehicle to vehicle.
The AMR moves into position and starts the conveyor to transfer items to the correct location. This Conveyor attachment is able to load boxes and totes onto other AMRs or to and from conveyor systems. With this module, your AMRs can support by streamlining processes which require sorting, for example when deliveries come in, or by moving finished components to conveyors for further manufacturing.
3) Robotic Tote-Lifter Attachment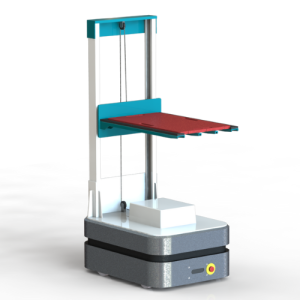 Lifting lightweight payloads vertically to reach shelves at different heights, this Tote Lifter attachment fits perfectly on top of the OTTO 100.
This attachment plugs into the surface of the OTTO 100, giving the AMR vertical lift capabilities so it can perform a wider range of tasks. These include unloading deliveries, stacking boxes or totes and retrieving items from or placing items onto shelving, conveyors or workstations at varied heights. This modular attachment can be adapted to add greater height capabilities, depending on the existing infrastructure in your facility.
5) Mobile Robotic Arm Attachment for CoBot functionality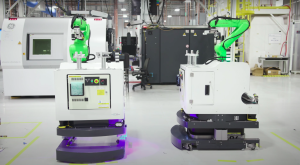 Turn your robot into a Cobot or collaborative robot with this module, which allows the AMR to assist with manufacturing, sorting and more.
The precision with which robotic arms can work makes them valuable tools for enhancing the speed and efficiency of manufacturing. They are able to pick and place items more accurately than other AMRs, manipulate tools and objects and cooperate with other AMRs. With robotic arms, palletizing becomes an accurate and cost-effective procedure, while human workers are freed from heavy lifting or jobs that could risk bodily injury.
Because the robotic arms are mounted onto an AMR, it is possible to use these for transporting objects that other AMRs may not manage, as well as more complex jobs that require the precise placement of small items.
Bespoke Additions for Robotic Automation
If we don't already have a suitable attachment shown on our website, we are more than happy to work with you to design and manufacture a bespoke solution, making your AMR fleet more adaptable and specific to your business needs.
Get in touch with us to discuss custom robotics that can enhance your operations.
We provide versatile, reliable and accurate automation solutions for businesses of all sizes.
https://www.guidanceautomation.com/wp-content/uploads/2023/07/Red-Selects.00_06_50_07.Still038.png
2700
4800
Scott Hunt
/wp-content/uploads/2022/12/logo-strapline.png
Scott Hunt
2023-04-07 09:00:16
2023-08-10 08:02:06
5 Tops and Modules to Customise Your AMRs