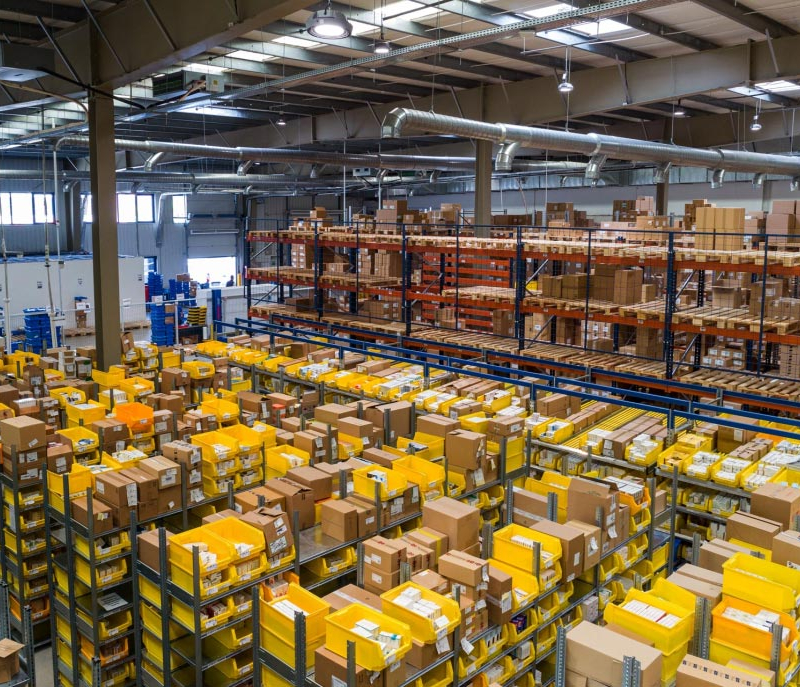 Demystifying Automation Implementation for SMEs: 6 Steps to Get Started
Automation has emerged as a game-changer in today's fast-paced business landscape, promising increased efficiency, cost savings, and improved productivity. However, the thought of implementing automation can seem especially out of reach for SMEs with limited budgets and resources. At Guidance Automation, we aim to support businesses of all sizes through the process and help create clarity for business leaders. In this article, you can explore the first steps necessary to begin working with automated technologies.
Imagine streamlining your repetitive tasks, reducing errors, and freeing up valuable human resources to focus on more strategic and creative endeavours. Automation has the potential to revolutionise your business operations, providing a competitive edge and positioning your SME for growth. By following our six-step framework, you can pave the way for a smooth and effective automation implementation, tailored to your specific needs and objectives.
Where to Begin with Automation Implementation?
Automating your business, no matter what size, may seem like a huge challenge. There are now so many solutions available, including software and robotics, that deciding what to automate can leave business leaders stuck in the doldrums.
As Automation Consultants for SMEs, we have distilled what we've learnt into six steps to help break up the process.
Start with phases

Identify which Processes to automate

Streamline & simplify the process before you automate

Train staff 

Automate on a trial basis
All of these steps can be taken before you need to make a decision or purchase any automation solutions.
A Phased Approach to Automation
While fully automated warehouses and manufacturing plants are popular images for companies to aim for, they are unattainable for many small businesses. They're also undesirable for SMEs, which thrive on vibrant, human teams. Still, automating certain areas can create space for expansion and scaling. Working in phases allows you to think about just a few tasks, rather than trying to visualise the entire ecosystem of how processes fit together, you can isolate certain areas and focus your research.
Identifying Processes for Phase 1
Look through your business structure to find processes that can be automated easily. Start small and simple, finding quick wins and low-hanging fruit to get the ball rolling. Speak to the whole team about plans and include them in this process, as it is likely managers and staff in each area will be able to highlight good places to start.
If nothing is obvious at first, mapping your processes can give you a clear understanding of each process so that you can identify simple actions. It can also highlight where automation will have the greatest impact on outcomes. 
There are a few types of tasks that are perfect places to start automating, so look for these within your processes:
Repetitive tasks

, such as data entry, packing or assembly-line tasks. Automation can free up human workers to tackle more complex and creative jobs.

Boring tasks

that require very little human skill. Automating the tedious increases job satisfaction among your workforce.

High-volume tasks

where there is a large amount to get through. Automation can increase throughput

and

maintain quality by streamlining these tasks.

Rules-based processes

, such as sorting according to variables like colour or size.

Dirty jobs

, such as working with oiled parts, cleaning or otherwise unpleasant tasks. 

Dangerous tasks

, such as those carrying a risk of injury or exposure to hazardous substances. Automation in these areas can improve workplace safety.

Expensive processes where errors are costly. Automating these areas can save money and improve quality.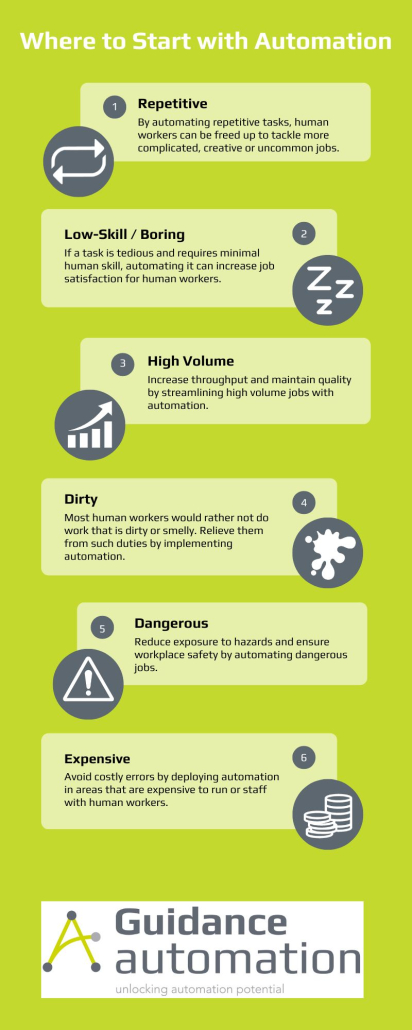 Simplify and Streamline First
Automation will streamline things, but it's good practice to simplify the process you're focusing on as much as possible before introducing new technology. This can help make sure you are looking at the right solution for the task. It can also ensure there are no flaws or inefficiencies that will be replicated in the automated systems. The end product will be quicker and better automated, with fewer bugs and poor protocols. 
Seek Advice from Guidance Automation
Once you know what you want to automate first and have ensured it is as efficient as possible, you are in a much better position to explore solutions with a provider. At Guidance Automation, we're happy to help with identifying and simplifying good targets for automation. Once these first two steps are complete, we can really get into the details of how to automate.
When we understand how your phase 1 process works, we can advise on the most appropriate solution for this part of your business. You might benefit from autonomous mobile robots (AMRs) to take on material handling and transport, or a warehouse execution and control system to bring your equipment under one central software. We can help explore the best solutions for your business requirements, narrowing down the options and providing trial periods and/or onsite demonstrations for certain technologies. 
Automation Training for Your Team
Once the type of automation required is decided, there is time to introduce the technology to those who will be using it. We recommend including all staff in the plans from the outset in order to identify training opportunities and needs in advance. Autonomous technology such as AMRs are designed to work alongside people, but people are not used to sharing tasks with robots. Training can help minimise teething problems, helping colleagues understand how to use the solution effectively and make the most of the investment. Automation training can also dispel any nervousness or trepidation, helping build confidence and satisfaction among operatives.
Automation Trial Periods
For certain solutions, a trial period can be extremely beneficial in understanding how automation will impact other systems and processes. Bringing the solution into play for a few weeks or months before making it permanent can highlight knock-on impacts such as bottlenecks, delays and feedback loops.
With these steps, automation implementation is much more accessible for leaders in small and medium-sized businesses. More detail on our solutions can be found on the Guidance Automation website, and we encourage you to browse there to see our automation case studies and AMR specifications.
Automation for All is in Reach
With new data suggesting that 26% of warehouses will be automated as soon as 2027, staying competitive will require bold steps towards making the most of these technologies. Automation is not just for large multinationals, as small and medium-sized enterprises can also enhance their operations and drive growth. By following the advice laid out here, we hope SMEs can overcome the challenges, leverage the benefits, and pave the way for a successful automation journey. At Guidance Automation, we are dedicated to empowering SMEs to thrive in the era of digital transformation. What tasks will you automate first?
Contact Guidance Automation for your automation needs. We're here and willing to guide you through the process. Call 0116 243 6250
---
https://www.guidanceautomation.com/wp-content/uploads/2023/02/fufilment_header.jpg
687
1030
Scott Hunt
/wp-content/uploads/2022/12/logo-strapline.png
Scott Hunt
2023-06-02 12:36:31
2023-09-05 13:21:05
Demystifying Automation Implementation for SMEs: 6 Steps to Get Started