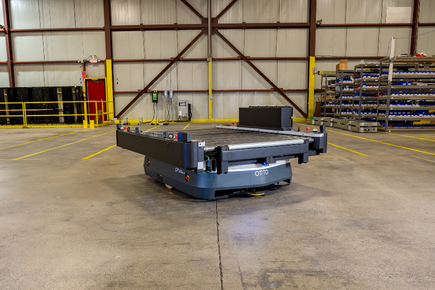 How Autonomous Mobile Robots Can Benefit Your Small Business
With huge recent investments in developing robotic solutions for industrial settings, the technology for AMRs (Autonomous Mobile Robots) is becoming more and more affordable. Companies like Amazon have driven customer expectations of next-day delivery, and met that expectation by rolling out robotics in their warehouses (among other practices). However, small business owners don't need a large facility to make the most of this technology and combat the labour shortage.
Robotic automation is becoming more capable and affordable, but it is still a new technology with a fairly low uptake. According to this report, 80% of warehouses worldwide did not have any automation in 2021. This trend holds across many industries, but researchers estimate that the global market for AMRs will grow to US$5.4 billion by 2026, with applications in warehouses, manufacturing, hospitality, healthcare, agriculture, eCommerce fulfilment and logistics.
Embracing robotic automation will enable businesses of all sizes to improve productivity, wait times, staff pressures and delivery times, changing the labour market forever. To avoid getting left behind, small businesses are encouraged to start considering how robotic automation could be used in their operations now.
In this article, we'll explain:
What is an AMR?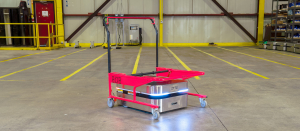 An Autonomous Mobile Robot is a small robotic vehicle that can move around your business premises performing functional tasks. They rely on wheels to move around, making them very stable, and their robust body housing protects all the inner workings. An AMR uses natural feature navigation, mapping the area with laser technology to generate a map from existing features in the working environment. They have sensors which tell them when something, or someone, is in the way, and stop accordingly.
AMRs can also be adapted with different tops and modules such as a conveyor, to manoeuvre different types of objects more easily.
How SMEs can Benefit From Automation
Automation can support businesses of all sizes by turning repetitive, time-consuming tasks into programmes that computers and robots can carry out unaided. This could mean a computer creating a stocklist from scanned barcodes, or a robot picking items to be packed for an order.
A good starting point is to map your business workflow and identify repetitive tasks where no on-the-spot thinking is required, for example, bringing soiled bed sheets to laundry in a hospital or hotel, vacuum cleaning large areas or replenishing shelf stock. Just one robot can increase efficiency and have a positive impact on your operations.
Looking at small warehouses, logistics and eCommerce businesses in particular, here are some of the ways AMRs can work together with people to pick orders accurately. The idea is to leave travelling around the warehouse to the robots, while people are stationed in certain areas. AMRs are not the only automation strategies these industries might employ but serve as a good example for small business owners looking to understand how robotic automation can improve their operations.
Order Picking: Bring the Goods to the Person
In Good-to-Person Order Picking (as the name suggests) the robot brings items to a person so that they can choose the correct type and quantity for delivery. This method is used in Amazon warehouses with huge success and can be adapted and deployed in smaller facilities. This strategy works by using the Warehouse Management System (WMS) to programme a robot to transport whole shelves of products through a warehouse, based on orders that need fulfilling.
The AMR travels to the correct shelf and lifts it from the base, before guiding it to picking/packing stations. A person then chooses the correct products and packs them for delivery, while the AMR returns the shelves. This saves operatives time walking around the warehouse but requires specialist shelving, and can have a large impact on the warehouse design. This process can be further enhanced with Pick-to-Light systems, which use lights to guide the picker to the required items.
This kind of system can be adapted to other industries, for example in a healthcare setting, Mobile Robots can transport beds or equipment between departments. In hospitality, a robot might bring trays of food, dirty dishes or laundry, while in retail this system can be used to support restocking operations.
Zone Picking: "Meet Me" in Zone B
For small distribution warehouses, the "Meet Me" method uses automation to save staff members from walking between the different shelving zones to collect products for packing and delivery. Instead, the AMRs travel to different zones in a warehouse to collect products. Each zone is handled by an order-picking operative, who meets the AMR at the designated shelf. The AMR uses its display to show which items to pick, and the person picks them, scanning them with a barcode reader attached to the robot to verify the order. The AMR travels to its next destination, while the person meets the next AMR in their zone.
This method reduces walking for the order-picker and has been shown via case studies to double warehouse productivity at least.
Automated order picking
This is a complex process. Full automation requires robots to pick items from shelves and carry them to a packing station, where other robots transfer items into boxes. This isn't widely used, however, as it requires specialist shelving that the robots can "climb" to retrieve items, but the theory is that these systems will enable warehouse owners to make the most of their space.
Sorting
Equipped with tilt trays, belt conveyors or powered roller conveyors, autonomous mobile robots can be programmed to sort packages coming into facilities such as factories or warehouses. By scanning a product barcode, the robot can identify from a database how to sort the package, either by dropping it into a hopper or adding it to a conveyor.
In the next few years, it is possible that AMRs will begin to replace conventional conveyor systems as a more flexible, space-saving and cost-effective alternative.
Industries that Use Autonomous Robots
We supply automated mobile robots to different industries, designing bespoke systems and strategies for each application. There is no one-size fits all solution, but programmable robots are increasingly able to adapt to various situations with minimal disruption to existing systems. Some industries that use autonomous mobile robots include:
Manufacturing – Particularly in the automotive industry, articulated robot arms have become commonplace for welding, material removal and finishing operations, but more frequently we see AMRs used to transport parts, tools and materials between facilities and manufacturing areas.
Warehouse, Logistics and Distribution – In this article, we have discussed these industries at length. By automating travelling activities such as transporting items around the warehouse or driving forklifts, AMRs are freeing workers to perform more high-value tasks involving their problem-solving skills, intuition and creativity.
Construction – AMRs are used to transfer building layouts from blueprint to reality. The AMR prints lines on the floor to show workers where walls, doors and other features should be built. Some use self-driving excavation robots to create trenches.
Agriculture – Lightweight, autonomous tractors are automating farming to perform precision seed planting, weeding and collecting data for each plant. These put less pressure on soil than even a human footprint, protecting soil structures that allow plants to access high levels of nutrients.
Benefits of using Automated Robots for Small Businesses
Any small business in warehousing, manufacturing, eCommerce fulfilment or logistics can benefit from these robots, with a free trial on offer for SMEs. We are keen to support UK SMEs in these difficult times, where labour shortages and business overheads are on the rise. Here are some of the reasons automated robotics can be a good investment.
Affordable Automation for SMEs
The return on investment of implementing robotics in your business is typically between 6-18 months, depending on the initial investment. Costing much less than an entry-level salary and increasing productivity and efficiency, it is clear that AMRs can lower business costs significantly.
The Automation Trends Report 2022 shows that among businesses using automation to move materials, operation costs are 35% lower than before implementation, while productivity and efficiency have increased by 31%.
Easy to reprogramme or add new products 
Many small business owners are concerned that implementing automated robots will come with an added cost, as they may need to hire a programmer every time they get a new product line or want to change the stockroom layout. However, AMRs are designed to be user-friendly, with software that helps you update the information used by the robot quickly and easily. We also offer training and ongoing support if required.
Increase Accuracy and Workplace Safety
Properly programmed and installed, AMRs don't make mistakes in the ways humans do. For example, when the wrong product is selected or an accident occurs, this is down to human error. Robotic assistants will only select the product they are instructed to retrieve and move at a standard, consistent speed to prevent accidents. They are unable to rush or injure themselves and have built-in safeguards to avoid collisions.
Increase Job Satisfaction
By taking the repetitive, labour-intensive tasks out of human hands, we have more time to work on tasks that require creativity, analysis, intuition and problem-solving skills. While there are fears that bringing robotics into the workplace will block people from accessing entry-level roles or leave existing staff redundant, these robots are designed for collaborative work with humans. With every increase in technology, many opportunities arise, whether in programming or maintaining AMRs or increasing productivity by working alongside AMRs.
How Our Solutions can Improve your Small Business Operations:
At Guidance Automation, we offer robotic automation solutions for manufacturing, warehousing and fulfilment processes. We are committed to helping our clients improve operational performance. Some of the solutions we provide include:
Autonomous Mobile Robots (Otto Motors' AMRs)
Bespoke AMR tops and modules
Pick-to-Light systems
Warehouse Execution & Control systems
Our solutions are scalable, and can grow with your business or be adapted for fluctuations in demand. They are quickly and easily installed and offer fast ROI. We work with you to optimise the solution for your particular setting to get you working effectively with automation.
Contact us about our free AMR Trial for SMEs, a three-month, no-obligation testing period to see how automation can support your small business.
https://www.guidanceautomation.com/wp-content/uploads/2023/02/OTTO-750-Conveyor.png
290
435
Developer
/wp-content/uploads/2022/12/logo-strapline.png
Developer
2023-01-27 11:32:31
2023-03-24 09:20:53
How Autonomous Mobile Robots Can Benefit Your Small Business