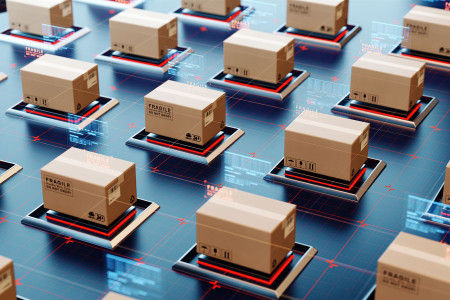 How Autonomous Mobile Robots (AMRs) can help meet increasing demand in Ecommerce operations
The ecommerce boom has hit warehouses hard in recent years, with the Covid-19 pandemic resulting in exponential growth for the warehousing and logistics industries. Ecommerce outfits have had to diversify to survive and cater to the increasing demands.
Ecommerce warehouses have to fulfil several criteria to come up to the standard expected by consumers. With consumers now able to shop from anywhere at the touch of a button, warehouses have to be prepared to offer a wider range of products than ever before, offer and process goods at exceptionally low price points, and deliver all this at super-fast speeds.
The need for personalisation is also changing how ecommerce facilities do things. New technology is providing a lifeline for businesses looking to provide a personalised service that's known for low prices, great quality and fast delivery.
The use of AMRs in ecommerce has exploded to help warehouses and logistics centres rise to current challenges, but how are AMRs used in these settings and what advantages can be realised by those looking to unlock the capabilities of autonomous mobile robots in ecommerce supply chains?
Autonomous Mobile Robots in the Warehouse
AMRs have a special place in ecommerce warehouses. An increasing variety of mobile robots is being introduced and integrated into warehouse operations to improve performance and production throughput amongst other things.
In the fulfilment centres that are integral to the ecommerce and logistics sectors, AMRs are replacing traditional tools and techniques to increase picking efficiency and productivity. Picking processes, including zone and goods-to-person operations, are becoming more targeted yet flexible, paving the way for the speed and accuracy consumers demand from modern day ecommerce services.
Along with AMRs in ecommerce, automated guided vehicles (AGVs) are being continually used to handle and process pallets, with self-driving forklifts capable of detecting shelf slots, reading barcodes and detecting pallet jack openings with safety and precision.
The deployment of autonomous mobile robots in ecommerce is ridding operations of more cumbersome, inefficient manual methods, thereby decreasing labour costs, reducing errors, minimising downtime, and enabling companies to handle seasonal order increases with ease. With AMRs in ecommerce used at every turn, warehouses of all sizes and niches are optimising their processes (from sortation and picking to packing and returns handling) to tackle the efficiency and staffing issues that have to date held them back.
The use of Autonomous mobile robots in ecommerce warehouses has been shown to increase order picking performance by two or three times, with AMRs able to pick more orders per hour than manual workers, with less staff required. As a result, warehouses have been able to reduce labour costs (including overtime expenses) dramatically, deliver a higher standard of service, decrease other costs (such as water, sanitation and lighting), lower order errors, and avoid penalties and reputational damage.
Following deployment, there is also less of a requirement for traditional tools and hardware, such as RF guns and carts, indicating long-term savings on these items.
Amazon and AMRs
Amazon is just one global brand that has led the way with the use of AMRs in ecommerce. Their aptly named 'Amazon bots' help the company handle orders and goods with ease and automation.
To date, Amazon has deployed over 520,000 robotic drive units. But rather than endorse the complete replacement of their human workforce, their use of robotics has focused on increasing the collaboration between people and technology.
Since their 2012 acquisition of Kiva Systems – the company's second largest acquisition, which was reportedly worth $775 million – their use of AMRs in ecommerce has changed their robotics journey for the better. Instead of replacing human workers, autonomous mobile robots in ecommerce were used to improve the experience they provided to their employees and their customers, with safety, innovation and a better working environment just a selection of the benefits that have resulted from AMR use.
It's not just Amazon that has embraced AMRs in ecommerce. Shopify and Sketcher's shoes have invested heavily in AMRs in their order fulfilment processes, with Sketchers reporting that their facility in California handles up to 17,000 pairs of shoes per hour.
With warehouse robotics, these big-name brands have been able to meet customer demands, keep costs and complexity low, enjoy scalable solutions, and deliver the efficiency and quality consumers have come to expect from ecommerce.
AMRs are for SMEs too
It's not just global players that benefit from the integration of AMRs in ecommerce. Smaller ecommerce operations can now use this technology to reap their own rewards and successfully level the playing field.
By embracing autonomous mobile robots in ecommerce, small-to-medium sized enterprises (SMEs) can enjoy the advantages of warehouse automation first-hand to bridge the gap and tackle issues like staff shortages. For SMEs however, an investment in AMRs in ecommerce poses a lot of questions. Potential stumbling blocks to overcome include the initial purchase cost and payback time of automated solutions.
Despite the challenges, any business that has a warehouse (even a small-scale ecommerce operation) should consider automation.
By introducing AMRs in ecommerce, SMEs can not only reduce the labour required for menial tasks, but improve retention and safety for its existing workforce. The automation of repetitive tasks means staff can focus on value-added work that has the potential to boost creativity and aid wider business growth. By reallocating human workers and letting AMRs get on with the dull, dirty or dangerous jobs, you can make your SME an exciting, engaging, safe and productive place to work.
Trying before you buy is another way SMEs can make the right level of investment in AMR technology. Changing market conditions, and the need to scale up or down at a moment's notice, represent other barriers to market uptake for SMEs. Thanks to the flexible, highly scalable capabilities of AMRs in ecommerce however, production throughput can be adjusted just as quickly to adapt to any SME's operation accordingly. Better yet, increasing or decreasing throughput can be done at no additional cost and without any changes to staff numbers.
As a leading supplier of AMRs in ecommerce, our work with SMEs has taught us one thing – an investment in warehouse automation is well worth making for any business, regardless of its size or niche. The right AMRs will offer a healthy return on investment over time as well as make a small ecommerce operation highly adaptable, productive, efficient and focused.
Guidance Automation and AMRs
Our – and our partners' – continual investment in the research and development of AMRs in ecommerce is paving the way for the better machines that businesses of all sizes can rely on not just now but long into the future. AMRs in ecommerce have an exciting part to play, providing the solutions that are the best fit for facilities and delivering the flexible automation ecommerce outfits need to succeed in their own target market.
With the right AMRs, ecommerce businesses have the power to increase flexibility, keep pace with demand, optimise labour, and improve accuracy and efficiency at every stage. Routine, repetitive and even hazardous tasks can be handled at speed and with safety in mind as standard. Whilst human error can also be decreased to ensure safer, productive and more satisfying work for employees.
We're passionate about developing the automated solutions that help businesses (from global brands to SMEs) thrive, with our development of top modules making our machines as in tune with bespoke applications as they should be.
If you're still unsure about how AMRs in ecommerce can help push your business to the next level, don't just take our word for it. Try our autonomous mobile robots for yourself!
We offer a free AMR trial to SMEs so the benefits of automating operations can be experienced first-hand.
Request your free autonomous mobile robot trial today to get started.
https://www.guidanceautomation.com/wp-content/uploads/2022/12/Ecommerce-450x300-1.jpg
300
450
Developer
/wp-content/uploads/2022/12/logo-strapline.png
Developer
2022-12-16 13:00:49
2023-02-24 11:39:36
How Autonomous Mobile Robots (AMRs) can help meet increasing demand in Ecommerce operations