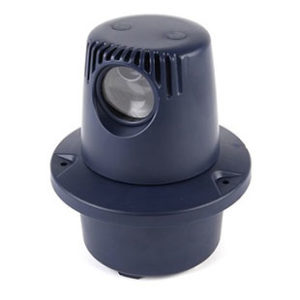 Benefits of Beacon Laser Navigation System
Beacon is a highly accurate Autonomous Mobile Robot (AMR) laser navigation system ideal for use in large areas.
Beacon derives position using a 360° Lidar scanner and a well-distributed reflective target constellation to consistently determine the location of any AMR within 4mm.
The key to the accuracy of the Beacon navigation system versus similar solutions on the market is its use of a 'continuous wave' beam of light. Beacon calculates its position using distance and bearing data from the first point it 'sees' each reflector until the last moment that reflector is in its 'vision' resulting in pinpoint accuracy.
Beacon is fast and easy to configure. Our engineers can recommend the positioning of a set of reflectors in the operating environment. Guidance Adopt Beacon software and a mapping vehicle are then used to survey the work areas to create a map which is used by the navigation system to accurately provide positioning for all your AMRs.
Self Survey
Need to expand or change the layout of your facility? No problem!
With Beacon, there is no need to employee a surveyor to undertake a lengthy and costly survey to create a new map.
Beacon Self Survey can survey the facility and create the map within hours rather than weeks and can be used time and time again giving you complete flexibility and scalability.