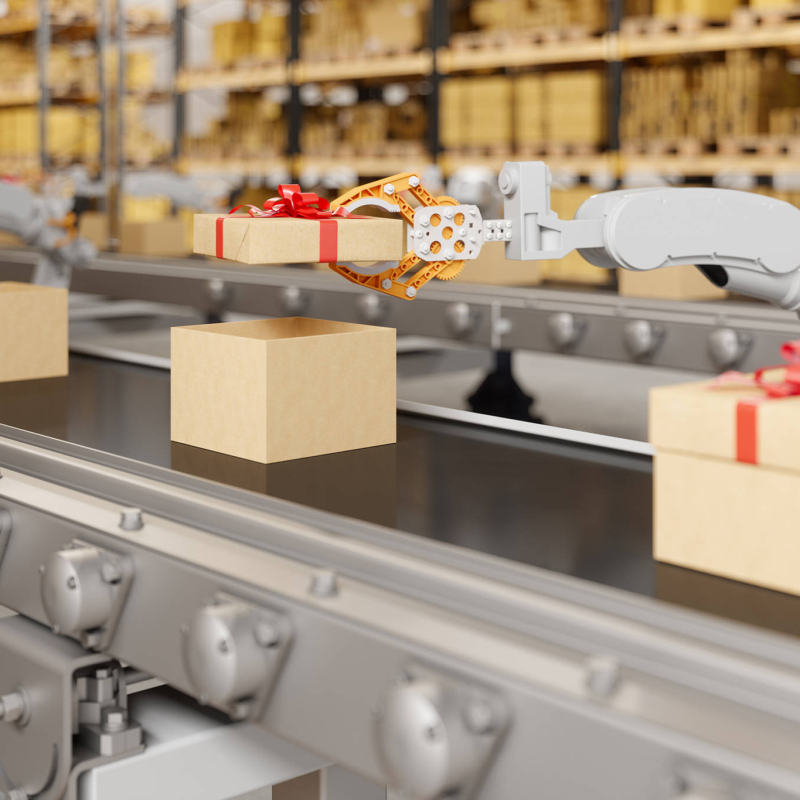 Survive and Thrive During Peak Retail with Automation
The retail industry has had a rollercoaster of a year, from the high street being closed for months on end, to e-commerce operators managing the acceleration of demand during lockdown. Now open and back in business, both online and offline retailers are feeling the pressures ahead of the busy shopping seasons, with Black Friday and Christmas just around the corner.
But without investing in automation, how will retailers scale-up their operations quickly and seamlessly to meet peak challenges with depleted workforces and without incurring additional costs? As Dr Paul Rivers, CEO, Guidance Automation, explains, it's now or never to embrace retail-tech and automate processes that benefit business in the short term while providing future-proofing, especially ahead of the ecommerce-boom.
Peak Seasons
Across the world, the impact of the coronavirus pandemic led to a decrease in spending during the 2020 holiday season. Many shoppers feared visiting stores, and the average footfall dropped by more than 50% compared to 2019. Non-essential retail was shut over both the Black Friday and Boxing Day sales periods. So how will this compare to 2021 with no restrictions stopping shoppers from accessing these deals?
Retail Week's Christmas data predicts that sales will revert to pre-pandemic patterns, with retailers experiencing two peaks in Q4 trading – one at the end of November sparked by Black Friday and another during the week before Christmas. Therefore, the pressure is on for warehouse staff to manage these increased levels of orders. There is no doubt that retailers will also bring their deals forward to make up for last year's losses, but this will only create more pressure for fulfilment, and without the right technologies in place, retailers will either sink or swim.
COVID-19 Challenges
Ahead of the peak seasons, retailers need to factor in the possible reduction of labour availability as COVID-19 cases continue to rise, as well as the increase in flu cases over the winter period. Many businesses rely on additional seasonal staff to cope with the festive shopping season, but this year, with statistics expecting a sales growth of 7%, warehouses are not going to be able to meet consumer needs with just manpower.
And this isn't just applicable in warehouses. There has been a nationwide shortage of HGV drivers across every industry, which may mean slower delivery times and a reduced volume of stock available. This has also extended to forklift truck drivers, which should prompt more and more UK companies to adopt automated materials handling equipment to optimise the efficiency of their warehouse processes.
The combination of consumer expectations, peak volumes and labour shortages make this a natural time to consider automation and robotics that can augment and transform existing operations.
Making the Automation Investment
Digital transformation is fundamental for survival going forward, particularly for retailers operating this coming peak season as it ultimately gives them a competitive edge. Automation acts as a driver of efficiency and accuracy, which can streamline warehouse processes to cope with the demand of Black Friday and Christmas sales. With consumers wanting their presents to arrive in time for the holiday season, automation can ensure that customer satisfaction goals are met by getting the products to the right place, at the right time.
It may be too late to deploy transformative technologies to better manage the holiday shopping surges that will start in a matter of weeks, but there is no better time than now to begin that gradual implementation. An investment in automation and robotic solutions could prevent performance challenges during the next peak, helping retailers get ahead of the 2022 curve.
Rescale and Redeploy
By automating specific process-led roles, such as picking and packing in the warehouse, not only does it reduce errors and therefore costs, but it allows the workforce to focus on more complex tasks, such as decision-making. Automation technology and robotic systems can address outdated operations that rely too heavily on manual processes and inefficient workflows.
It also reduces the need to hire seasonal staff as robotics can be deployed to assemble typical e-commerce orders, making the warehouse less dependent on the additional labour workforce required to handle growing volumes of packages. It is never too soon to imagine a more successful peak season when reliance on labour is decreased, resulting in fewer errors occurring, higher output and improved safety.
Conclusion
Automation is a crucial element to retailers' holiday season success. Without it, there is little chance that the growing demands of customers will be met. The last year has demonstrated how quick businesses must be to transform their processes when faced with adversity, and particularly for retailers, has emphasised that there may no longer be just one peak shopping season.
Therefore, it is vital that if retailers want to keep pace with the digital economy, they must have the right technology in place to meet both expected and unanticipated demand. The automation boat may have been missed for some retailers in 2021, but If they don't act now and invest in these types of technology, they will miss another year of opportunities to leverage the benefits of shoppers returning both to the high street and online in their masses.
To find out more about how Guidance Automation can help retailers with automation of processes contact us today:
Call us on: +44 116 243 6250
Alternatively: Fill out the form on our contact page
https://www.guidanceautomation.com/wp-content/uploads/2021/11/image-1.jpeg
1365
2048
Lucy Simpson
/wp-content/uploads/2022/12/logo-strapline.png
Lucy Simpson
2021-11-02 14:35:33
2022-12-23 13:32:28
Survive and Thrive During Peak Retail with Automation