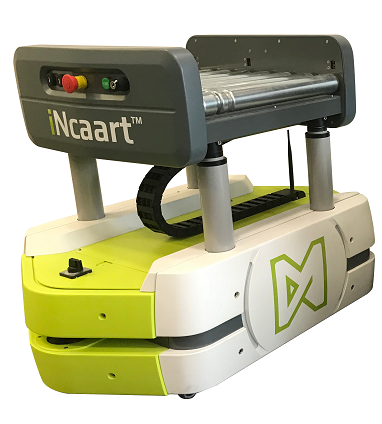 iNcaart: Conveyor-topped Autonomous Mobile Robot capable of loading boxes, totes, or similar onto briNgbot or to/from conveyor systems.
iNcaart is a versatile Autonomous Mobile Conveyor for efficient and adaptable payload transfer from conveyor to conveyor, conveyor to tote/carton lift, vehicle to vehicle and more.
Based on our industry proven troNnik Autonomous Mobile Robot base, our mobile conveyor vehicle is supported by our engineering teams who have 25+ years' experience in pioneering autonomous vehicle guidance technologies. Our team will seamlessly integrate vehicles into existing processes ensuring immediate benefit for your operation.
Our collaborative AMRs can easily be deployed to enhance existing operations without disruption or reconfiguration and contribute an immediate and significant improvement in throughput efficiency and error reduction.
Download the datasheet here