Employee Spotlight: Jamie Lawrence, Automation Sales Manager
09 Dec 2021
How long have you been with Guidance Automation?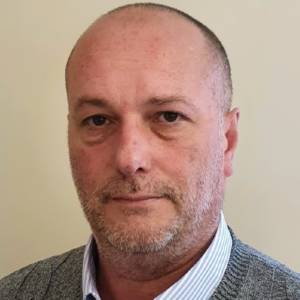 6 months.
What qualifications do you have?
In the mid-80s I studied at Gloscat College in Gloucestershire and obtained a City & Guilds in Machine Printing and Reprographics, whilst managing my father's Printing Company.
In 1990 I obtained my CIPS qualification whilst working for my family business, distributing kitchen gadgets and kitchenware. I also obtained qualifications in Export Management, Man-Management and the Exportation of Dangerous Goods.
How and when did you begin your career in robotics and automation?
My background is in machine vision, sensors, pneumatics, robotics, AGVs and AMRs. I have worked in robotics and automation for ten years now. Mostly I have been in sales and business development and I have always been involved in providing solutions for end users and integrators.
What industries have you been involved in?
Pharma, medical devices, automotive, packaging, food & beverage and general Industry.
What is your area of expertise?
Machine vision and robotics are the areas I've focussed most on in my career in automation.
What is your favourite part of the job?
My background is in domestic sales and business development and this role gives me the opportunity to work on international projects and learn about different global markets. I enjoy communicating with overseas customers.
What is the most rewarding project you have been involved in and why?
I worked with Dyson on automation applications which were used in their research and development laboratory in Wiltshire. I also worked with them on their ECP (Electric Car Project) vehicle. These projects were exciting as they offered the most interesting innovations for autonomy.
Hyperbat was another significant project as this involved both Aston Martin and William f1 Engineering. I learned a lot about battery technology and management systems which were later scaled up to full production. The automation business I worked for at the time won the bid to build the first special purpose machine to suit the manufacturing process.
Finally, one of the more interesting projects was The Baby Pod which was an idea developed by Williams f1 Engineering. The Baby Pod was a sophisticated carbon fibre baby life support transportation device. It allowed critical care transportation dedicated to newborn babies. The rewards of being involved in this project speak for themselves.
What has been your biggest professional challenge to date?
The current Covid situation has been a huge challenge. However, it would seem that after an initial period of transition, we have all adjusted to a new way of working and most businesses I work alongside have embraced this new era.
What sets Guidance Automation apart as a provider of automated guided vehicle technologies?
Our ability to look at the big picture and consult directly with our customers to help them understand the full potential of our services. We are unique in that we have manufacturing capabilities and in-house software engineers.
Not only can we help develop solutions, we are still very much classed as a manufacturer of Lidar based navigation systems. This, coupled with our latest project to develop an AGV/AMR for our parent company Matthews in the US, means we are by far a very versatile business with an extremely high skill set. Our flexibility and drive to produce bespoke software solutions for our customers is a credit to our scope of supply.
We are trying to make automation more accessible. This can now be realised as the cost of components has come down. The natural feature navigation solutions we have developed at Guidance Automation are much more cost and time effective.
Can you give us an idea of how long a typical project takes to deliver and what is involved?
From the day an initial enquiry comes through, a process to find out more detail from the customer begins. Depending on the locality, I would always want to visit the customer and site.
Once I have fully understood the application I can then discuss requirements with our technical departments. I then submit a general technical specification along with a quotation and time scales to the customer.
Once my specification and price has been realised it will generally spark off further meetings/site visits and more discussions.
So, a typical project can be within a few weeks or last as long as 6-12 months depending on the scale of the project at hand.
Are you working on any current projects or products that you wish to share?
We are currently working on a large project in Sri Lanka helping a client to develop their own AGV to be used in their manufacturing process.
Another exciting and unique project we are working on is for a leading integrator in the US as the end user is a munitions manufacturer.
What are three words you would use to describe Guidance Automation?
We are Unique, Flexible and Professional in our approach.
What is one thing that clients may not know about Guidance Automation that you would like to share?
The fact that we actually develop our own software. Because of that we are able to offer flexibility for our clients.
What is something people in your industry have to deal with that you want to fix?
We have seen time after time AGV/AMR's being supplied into industry only to see, in many cases, that the vehicle and software support falls over.
This is mainly caused by the supplier not asking the right questions of the customer or integrator. In the main, to map a vehicle and get it to move about is simplistic these days.
However, understanding each customer's requirements for the integration of vehicle software into their current controls or PLC frame work is not so simple and often the end user is left with half a system that has to be manually configured or controlled. We take that burden away by offering a totally turnkey solution and work both with the system integrator and end user to provide a robust solution.
What is your primary goal in your role as Automation Sales Manager?
To consult with customers to gauge a full understanding of what it is they are trying to achieve and match our products and services to their needs. Managing clients' expectations is also a factor in my role.
What does a typical day look like for you?
Remaining in constant contact with customers we're working with and ensuring that both the software team and electrical engineers are supporting the customer. I create commercial offerings whilst developing new business.
From a work viewpoint what has the Covid-19 pandemic been like for you so far?
Covid-19 played a big part in changing the way we communicate with one another. Traveling to meet clients and doing site visits became extremely difficult but, as with most of the UK, we embraced the online meeting technology that is available.
How has the Covid-19 pandemic affected your customers and the systems they need?
When the pandemic started, there was an influx in enquiries from pharma companies who were looking to automate and scale up. I sold more robots in lockdown than I did beforehand. With fewer people on site, it was an ideal opportunity for businesses to review and evaluate their systems and processes and clearly define what they needed to automate to make improvements. Some people embraced it and others held off. My advice would be don't wait! The longer you wait, the more there will be to automate, and solutions providers may have long wait lists!
Brexit also impacted our customers, as a country we were very reliant on a foreign workforce. Now there are more jobs than people who can fill them. Automation can help fill this gap.
As we near the end of the year, how do you view the state of the robotics and automation market?
It's a very exciting time for anybody involved in the automation industry at the moment because there is already an uptake in the requirement to automate.
Can you give an overview of the other Matthews Automation Solutions brands? How does Guidance Automation work together with them?
Our parent company in the US has been supplying Pick to Light systems for many years. More recently, we embarked on a joint project to supply an AGV/AMR solution which could be sold and integrated into their existing Pick to Light and Put to Light systems. We are nearing the end of this project and will shortly be launching our very own vehicles into this market place. The vehicle will also be of huge interest to many other industries and our hope is that our vehicles will be providing ROI within those industries in the not too distant future.
What do you think is the most important thing that companies should focus on now when thinking about automation?
Productivity, cost saving, and a solution that is scalable and flexible. Automating is almost insuring your business isn't going to be negatively affected by any changes due to global factors outside of your control.
What do you like most about your job?   
I really like the diversity of the people who are looking for consultants in regards to automation. One day I could be talking to a farmer, the next day I could be talking to someone who is developing an important new drug. I enjoy really getting to know and understand customers and what they are trying to achieve.
What market trends or changes have you experienced in your career?
AGVs and AMRs weren't really regarded as exciting when I first started in the industry. In the last 4-5 years people have been a lot more interested in mobile robot applications, collaborative robots and their capabilities. People can see the use, value and scope of robots that can work alongside human beings.
Where do you see the industry in 5/10/20 years?
The agriculture industry could potentially see the next big boom in automation as we need to be more self-sufficient. Historically, the UK has been very reliant on importing but we have the manufacturing capabilities ourselves. Another area of automation in the UK that we're noticing massive change in at the moment is the automotive industry. It is in flux and tends to run on a 7 year cycle; we're probably halfway through a 'downturn'.
What's the best career advice you can give to others?
I am in this role due to my experience, rather than my formal qualifications. Networking, using LinkedIn, for example, plays a hugely important role in building contacts and keeping up to date with industry news and open opportunities.
What are the values that drive you?
Do what you say you are going to do. One of my pet hates is having to remind people of this! Communication is of huge importance.
Who inspires you?
The feeling you get when to create something from nothing or are challenged to bring an idea or a solution to the party inspires me. My network of system integrators have been vital to the success of many projects I have been involved with over the years. These businesses drive the continuation of general improvements. There are too many to mention but each systems integrator has its own diverse and extraordinary way of delivering solutions to industry. Automation simply would not work or come to fruition if the UK systems integrator network did not exist.
How do you like to spend your free time?
I have two children, a boy and a girl under the age of 10 so they keep me busy. I have a music studio at home and enjoy music production and remixing. As a family we love cars so attending car shows and rallies are things we like to do together. We take holidays in our caravan with our dogs in and around the British Isles.
What's one thing you can't live without?
The internet.
If you had one superpower, what would it be?
To be able to see into the future.
Do you have a favourite quote?
Make the most of your youth because you're older for a lot longer than you are younger. Wise words from my grandad, God rest his soul.
If you have an automation project you'd like to discuss, please contact Jamie on +44 07972 376689.